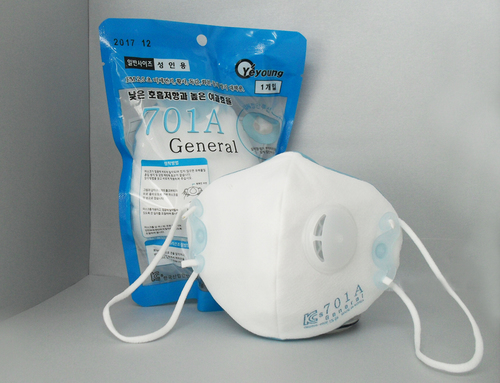 Product Description
701A Filter type anti-dust face mask is a representativemask of less respiratory resistance and high capture efficiency. Thecombination of plastic frame inside the mask proping up the shape and facecontacting cloth sticking closely at face also contribute to thestrongest trait of the mask, high adherence.
The plastic frame made the mask shape as adome while the face contacting cloth, which plays as the role of closuresilicon cushion, sticking closely at face made an enclosure space ofsnout part. The face contacting cloth made of supple and soft material is withoutstanding elasticity, so it can easily adapt to user's face regardless ofdistinction of face size or face feature of different people. No matter howstrenuous the user's facial expressionsand facial action change, the face contacting clothwill always cover the interstice between mask and user's face to the maximumextent.
Since the face contacting cloth is made ofmaterial that never allows particle in the air to penetrate, there is no needto worry when some part of the face contacting cloth doesn'™t fit into the face.
The mask is equipped with exhalation valve,from which warm air and vapor will be released rapidly from inside of the mask.As a result, when putting on goggles while wearing a mask, the goggles willnever steam up nor blur the sight of users. Compared to products of otherbrands, dampness inside Yeyoung 701A mask is conspicuous less. What is more, itis designed to fold to keep, so it is convenient for users to keep and use. Besides,the mask has no metal parts and while there will be no waste duringincineration process.
The filter material that Yeyoung 701A adoptsis take use of electrostatic force of highly efficiency.
701A direct half face mask is with the samebasic design of 501A mask.
The reasonable combination of 701A anti-dustmask's plastic frame and face contacting cloth brings both safety andconvenience for users to get the comfortable wearing feeling and high motecapturing efficiency at the same time hence there is no doubt that Yeyoung maskis an outstanding product.
Contact Us
#1401, Shinchon Daol Nobel Leeum, Baekbeom-ro 1-gil 83, Mapogu, Seoul, Seoul, Korea South